Salcheto Salco Evoluzione 1999 – 2001
15 Марта 2007
The art and the evolution of a Tuscan wine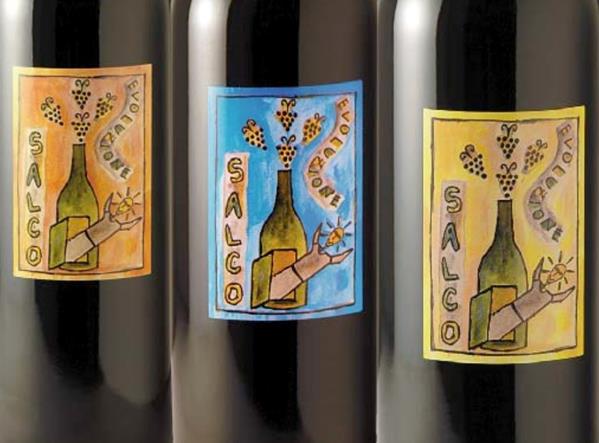 SALCO EVOLUZIONE 2001
Text: Eleonora Scholes
Photo: Salcheto
An unusual wine event was held in Brera, the famous art quarter of Milan. Salcheto, a Tuscan wine estate from Vino Nobile di Montepulciano, offered a vertical tasting of its top-of-the range Salco Evoluzione wine at the backdrop of paintings, transformed into labels, and other objects of art.
Salco Evoluzione is a conceptual wine born thanks to a special Prugnolo Gentile (Sangiovese from Montepulciano) clone that was found in Salcheto vineyards nearly 20 years ago. The main feature of the Salco clone is a particular formation of clusters. The berries are well spread and therefore are able to reach full maturation and even light overripening without compromising on quality. The estate replanted Salco vines on a separate 2-hectare plot and gathered the first harvest in 1999.
Managing director Michele Manelli spares no resources to make Salco Evoluzione wine a true reflection of the character of the soils, the grapes and the winemaking philosophy of the estate. Grapes are picked in mid-October, with five passes through the vineyard. After an additional selection in the winery and gentle destemming, the must is kept in three types of vessels: truncated conical casks, stainless steel vats and barriques. Delicate vinification is followed by 27 months of Salco Evoluzione aging in wood, partially in Allier barriques and partially in big Slavonian casks. Then the wine rests for 4 years in bottles which are kept in the cellar at an ideal temperature and humidity. Salco Evoluzione is released on the market after six years of total aging. Production started from 4,000 bottles and now doesn't exceed 9,000 bottles, or 1,500 cases.
The labels for the initial vintages of 1999 and 2000 were created by a Franco-Mexican painter Pablo Leroux who lives and exhibits his works in Paris. The design of the latest Salco Evoluzione 2001 was done by a Neapolitan artist Ciccio Tramontano, known through design of art objects and fashion accessories. Creative approach is also found in the general presentation of wines. They are sold only in wooden cases by six bottles, each with a different label. The labels are variations on the topic of the main picture. Wine cases are not left unattended either. Their surface is painted in the motif of the labels.
For the 2001 vintage release, Michele Manelli organized a vertical tasting of all three Salco Evoluzione vintages and displayed original pictures and other works of artists. Ciccio Tramontano was the guest of honour for the event.
Salco Evoluzione is an example of premium Tuscan winemaking. The wine succeeds in having an excellent intensity that doesn't turn into vulgar concentration and in keeping natural elegant complexity that comes from the character of the soil and the grapes. Satin-like texture of tannins and full retronasal finish are other great features of Salco Evoluzione. It is noteworthy that the wine gets to the market in the optimal, according to winemakers, age. It can be opened straight after purchase, but it also has a potential for further evolution.
This is especially true for Salco Evoluzione 1999. Its firm structure will allow the wine to remain on the plateau for at least another 5-7 years. The youngest Salco Evoluzione 2001, with its palate combining freshness, ripe black fruit and great depth, also has a good potential for development. In the meantime, Salco Evoluzione 2000 now shows a lot of charm. Its structure is slightly lighter and fresh fruit have given way to the nuances of cooked and dried fruit.
As Michele Manelli notes, "premium wines as a category have become more difficult to sell in the past 3-4 years. A special label causes curiosity, but its main aim is to make people open the bottle and taste the wine. When it happens, not many are disappointed". The first three vintages of Salco Evoluzione prove his point.